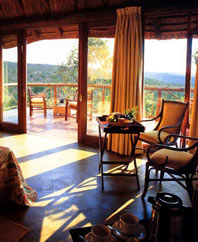 The African dawn does not creep quietly along like a leopard stalking its prey, but announces itself with a cacophony of fascinating sounds. The birds are the first to begin their daily ritual of squawking, squealing, crying, calling, each species with its own distinctive sound. Now and then you will hear the excited chattering of the monkeys as they start their early morning grooming session, and catch glimpses of the more adventurous ones swinging effortlessly through the trees.

Slowly ambling down to the waterhole you will see various species of buck, buffalo and perhaps two or three elephants eager to partake of the cool refreshing water which is the most precious commodity on the African continent. Meanwhile the warthogs will scurry in and out of the scrubby trees grunting and snuffling as they forage for whatever they can find. As you look out across the landscape the sun has already risen above the horizon and shafts of golden rays bathe the grasses that sway almost imperceptive in the gentle breeze which carries the pungent, uniquely African smells to your nostrils.

This is the morning that is waiting to greet you, in fact waiting to embrace you, when you make that most important decision to embark on an African Safari. Make a firm commitment and book your Safari accommodation now.